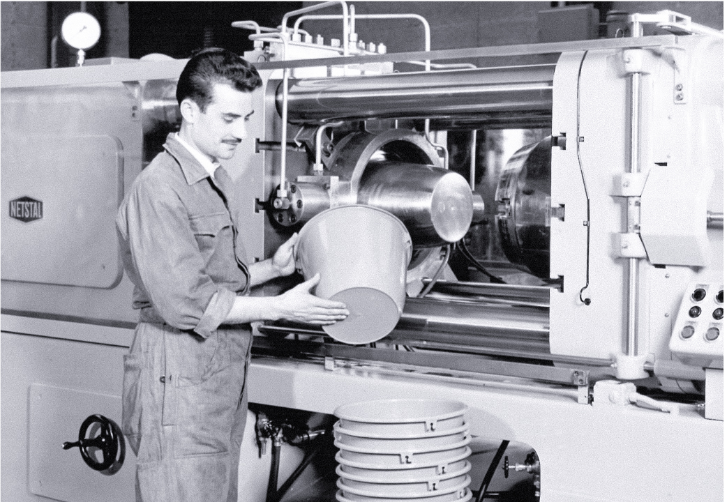 The success story of Stöckli's household products dates back to 1874.
Stöckli's success story with household products started in 1874. Master craftsman Alfred Stöckli and two companions manufacture the first Stöckli items in a workshop in Uznach:
oil lamps, rechauds, ashtrays and metal lids for pans. In time, the small enterprise develops into a steadily growing company. This was the birth of Stöckli's household products, of which the cooking and serving dishes will become particularly well-known.
Decor items under the name "Stöckli Kupfer" (Stöckli copper) are added to the company's range of products and in 1969 the first portion Raclette oven is invented and launched on the market.
Later on, the Raclette boom gets another boost with the PizzaGrill function – another Stöckli innovation.
We develop high-quality products for tabletop cooking, in which we merge functionality with beautiful and timeless design. The focus of our products is not on fast meals, but rather healthy, unhurried shared meals in a pleasant atmosphere, whether with family, friends or at a child's birthday party. Our appliances are the right solution, regardless of the event. Be it your own pizza made with the PizzaGrill, a fondue with the cheese fondue set or roasted chestnuts in the chestnut oven – thanks to Stöckli's diverse range, you can look forward to a unique experience.
The traditional preservation of foods
Preserving seasonal delicacies is a piece of cake with dörrex, as fresh food such as fruit and vegetables are easily dehydrated to perfection. With free temperature control and active warm-air circulation, the gentle and even dehydration always gets the best results.
The high-quality watering can for gardening pros
Our plastic watering can is robust and durable, with increased UV protection contributing to the quality of this Swiss original. Thanks to the unique design and ergonomic handle, the watering can fits perfectly into your hand and ensures the best watering experience.
We offer a 2-year warranty period for our quality products. Moreover, sustainability is one of our top priorities, which is why we guarantee the availability of spare parts for a period of 10 years. If an appliance is faulty, we repair it in our own repair workshops. We provide spare parts for each and every product in our shop. Additionally, we are certified according to ISO14000 (Environmental Management).